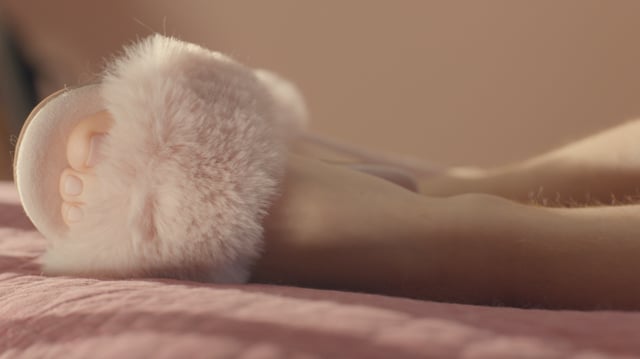 YG15 winner Noemie Le Coz leads Billie's body-positive new campaign
---
When Australian-born, Brooklyn-based designer and artist Noemie Le Coz was named to Young Guns 15 last November, one of the the things that cemented her place in that class was her incredible work for Billie, the subscription service for women's shaving and body care needs.
Since winning Young Guns, Noemie has joined Billie as the company's creative director, and has led charge on a unique and audacious campaign that's making waves far beyond our own little design world. Project Body Hair just might be the world's first campaign for women's razors that depicts actual body hair — from armpits to toes and everywhere in between — instead of already smooth and shorn surfaces. The campaign also says that Billie is quite okay with women not shaving, a bold move for a company selling razors. Project Body Hair has already been featured in mainstream media such as BBC News, Buzzfeed, Harper's Bazaar and Glamour, as well as industry go-tos like It's Nice That, Refinery29, AdWeek and AdAge.
We had a chance to catch up with our friend Noemie to learn about how her relationship with Billie has evolved, and how Project Body Hair became a reality.
---
Congrats on becoming the creative director at Billie! From freelance designer to CD — how did that relationship develop?
Thank you! It's probably been the best client relationship I've ever had. I met with the two founders — Georgina Gooley and Jason Bravman — in early 2017. It was great timing since I'd made the jump to freelance only a few months previously, and I was looking for a fun new project. I can't say that a razor brand was at the top of my 'dream' client list, but after meeting with the founders I could tell that we were aligned on a lot of levels, and they were going to be open to letting me run with something that felt really fresh. And, to be able to work on the branding, art direction, illustration and web design all from scratch — to really own that super cohesively — was an exciting opportunity, since I love all of those things. I ended up presenting them with first branding concepts a few weeks before flying to San Francisco for a 2-month freelance gig at Apple, and luckily, they chose my favorite options for everything. The concepts presented to them were almost exactly what we ended up launching with! I ended up doing a lot of the rest over in San Francisco remotely, on nights and weekends when I wasn't at Apple. It was kind of perfect because it kept me preoccupied being so far away from home, and also helped fill time on the 1.25 hour bus commute every day.
Then gradually over the next few months we started finalizing everything for launch — from illustration and packaging, to the heavier items, our website, photoshoots and social assets. It was just the three of us making it all happen, but it worked; Georgie has an advertising background and Jason comes from a business background, so between all of us, we had enough to make it to launch.
From launch until now, it's been an incredible ride with them. Billie reached its 12-month projected sales within the first few months, and we've continued to keep our creative and messaging top focus, next to product. This year we've hired a full internal team, including another designer, so I've stepped into a Creative Director position there.
---
---
Tell us about the Billie brand — what made this the perfect brand to make such a body-positive statement as Project Body Hair?
Until Billie, razor brands had been marketed in an incredibly sexist and archaic way. Lots of pink, clichés, airbrushed legs and generally, uninspiring marketing that really hadn't progressed in decades. The Billie identity was created in direct response to this — to fill a clear gap, and create an inclusive, body-positive shave and body care brand, that supported female empowerment. From the get go, we wanted to send a message that Billie existed for women, whether or not they chose to shave. Said more succinctly with the latest campaign — "however, whenever, if ever you choose to shave, we'll be here".
With this in mind, we wanted to create something that normalized, celebrated and empowered this choice, and hopefully change some mindsets along the way.
---
---
How did the idea come about? If I may play devil's advocate, isn't it contradictory for a razor company to encourage letting your hair grow out?
Creating a campaign about body hair was an idea of Georgie's from pretty early on. We collaborated with two creative directors on the project, Marie Ronn and Tim Cairns, who came up with the video concept and the idea of 'donating' our body hair images to the internet, so that everyone could use them and repost them. The whole team recognized the important message we were making with this campaign and we were super excited to bring it to life.
In terms of being contradictory, well, I'd say it's more a sign of how brands and marketing might be changing. For the past century, female razor brands have essentially used shaming as their marketing tool. Encouraging a choice, with some real talk (and real images), lets our audience know that we exist for them no matter what their preference, and in doing so, I think, actually opens up our customer base — especially today. We also sell other products that you can use even if you don't shave — so there's a little something for everyone.
"For the past century, female razor brands have essentially used shaming as their marketing tool. Encouraging a choice, with some real talk (and real images), lets our audience know that we exist for them no matter what their preference... "
Getting the team together — how did you assemble your crew? What made Ashley Armitage and Luca Venter the right choices for this, and what was it like working with them?
Ashley had been on our radar for a little while. We'd seen she had a particularly brilliant way of highlighting reality in her photography, but always through incredibly powerful and beautifully elevated images. She was a perfect fit for both the stills and video — bringing that mix of softness and realism, and she was very excited about the project from the beginning. Luca is an absolute gem, we commissioned him to shoot the stills on our previous campaign, 'Magic in the Mundane', which he totally nailed — his aesthetic is very dreamy, often taking 'mundane' into an off-beat yet elevated place. We loved working with him, so we brought him on to help build the image library as a compliment to Ashley's work. The one-day shoot was crazy, but incredibly fun — I jumped from room to room of the house we shot in, running from Luca's set to Ashley's, styling shots, selecting props and wardrobe... with the whole set being super excited about what we were making.
We were also lucky enough to partner with an incredible post-production team who worked their magic on the video, Whitehouse Post, Carbon VFX and Wave Studio.
Mid-way through pre-production, I had the idea to theme the shoot 'fuzz', as a way to bring everything together and tie back to the idea of hair in a fun way. Fuzz then formed the direction for the campaign's styling, props, location, wardrobe, copywriting, social... and meant that we could style our models in fun things like pom poms, fluffy socks and brushed out perms. The house we shot in was huge and very eclectic, and had this incredible sun room filled to the brim with weird plants, meaning we could shoot things like prickles, and long and short 'fuzz' as content and backdrop. It was the perfect set for the shoot, we got very lucky!
---
---
As part of our mission to make the internet 'fuzzier,' we put the call out to women to help us grow the library by uploading their own images or using #projectbodyhair. Watching the images being sent in has been really exciting.
We also had a couple of nice surprises along the way — our 'placeholder' music, "Tomboy" by Princess Nokia, ended up becoming our real track! We reached out to her on a whim, and she really loved the video, so she agreed to give us the license, which we were floored by. We also scored a prime billboard placement in Times Square for 24 hours, which served as the perfect sneak peek to the campaign, running a few days before launch.
What we really didn't anticipate was the incredible reception the campaign has received. Within 24 hours the video had reached a million views, and since then, has gone viral. Moments like seeing it on the front page of the BBC were super surreal, but just reading women's comments has been what's been most fulfilling... it's been overwhelmingly positive, and we've also gotten comments expressing how the video has personally helped them, which is an amazing feeling.
Now that Project Body Hair seems like an early success, what's next for Billie?
I don't think I can say much, but we're steering our focus back to our product for a while. It's been only 8 months since launch, so we have a lot of things we want to do next! We want to continue building a brand that women can go to for affordable and delightful self-care products, but just as importantly, continue to create messaging that supports women. It's an exciting time, for sure, and I feel incredibly lucky that I get to help shape it all.
---
---
Young Guns winners and One Club for Creativity Members get featured here on the One Club website and across our social media channels. Have a new project you'd love to share? An upcoming exhibition and you'd like us to help spread the word? Drop us a line at membernews@oneclub.org. Not yet a Member? Join today!
Tags
---